Other
Take an intimate look inside some of Sarasota's most beautiful homes during the Simply Sarasota ®️Tour of Homes by the Junior League of Sarasota presented by Charlotte's Grace. Tickets available on Ticket Tailor or at the door.
The Tour is Friday, February 24th and Saturday, February 25th, and features six incredible homes ranging in style from oceanfront coastal cottage to custom modern and contemporary farmhouse, all located in some of the most desirable neighborhoods in Sarasota.  You can take a guided tour with a Junior League hostess or take a self-guided tour of the homes.
Throughout the day, there will be special pop-up shops and other demonstrations inside the homes including Kendra Scott, permanent jewelry by LINK x LUXE, and custom suiting by Tweeds Custom Suits. Lipstick Lex, Alissa Silvers and other artists will be selling their pieces and may even be painting live! Enjoy live music, lite bites from Cafe BarBosso, wine tasting by Sarasota Wine Co., caviar and champagne tasting, and much more!
A crowd favorite, the Cookies for a Cause Bake Sale, will be back again this year – on both Friday and Saturday! Buy a box and fill it with as many home-baked cookies as you desire!
Bring your ticket that was emailed to you to any one of the homes. We will provide you with your Tour of Homes program, which will act as your ticket for the rest of the day. The tour can be started at any of the homes.
GENERAL ADMISSION TICKETS
Tickets are $50, valid for one day only and available through Ticket Tailor or at the door. No refunds.
$50 of each general admission ticket purchased is tax-deductible.  Admission times:
February 24th: 10am – 4 pm
February 25th: 10 am – 4 pm

HOME LOCATIONS:
Indian Beach: 709 Indian Beach Lane
Pomelo Place: 949 Pomelo Place
Paradise Shores: 1547 Sandpiper
Hudson Bayou: 1727 Bahia Vista (*No parking on Bahia Vista)
Southside Village: 1843 Morris Street (*Park only on South side of Morris St)
Siesta Key: 4632 Ocean Boulevard (*Park along Ocean Blvd)
Here is a suggested route, though the Tour can be started at any home throughout the day!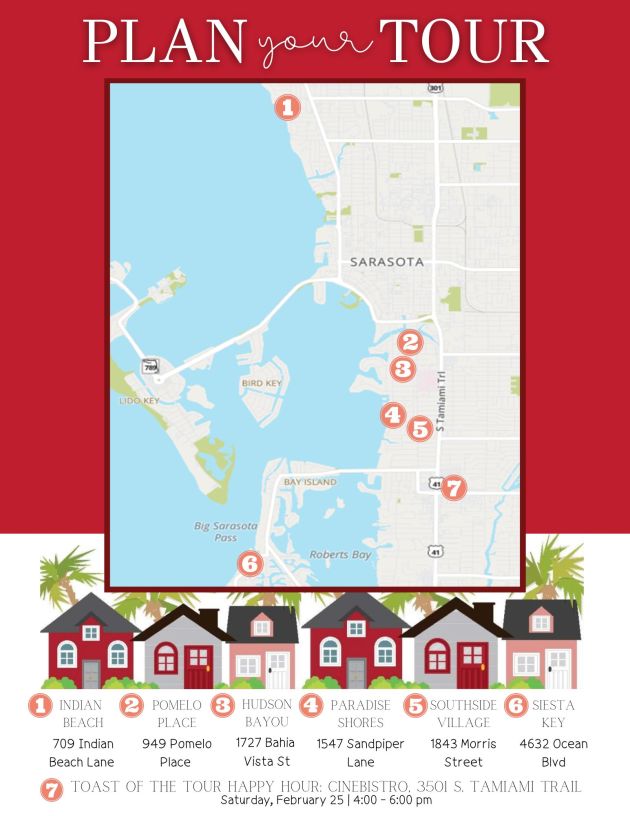 VIP TROLLEY TOUR
$125 per ticket, valid for one day only.
This year, we are offering a limited number of seats each day for a VIP Trolley Tour available only through Ticket Tailor before the event. Relax and let our Siesta Trolley do the driving, while you sip champagne, feast on a personal charcuterie box, and enjoy a tour led by renowned historian, John McCarthy from home to home on the Tour.
Friday: Trolley pick up at 1 PM. – SOLD OUT!
Saturday: Trolley pick up at 11 AM.  – SOLD OUT!
The trolley picks up and drops off at CineBistro Siesta Key. The exact return time of the trolley will depend on traffic and time spent at homes.
$100 of each VIP ticket purchased is tax-deductible.
TOAST OF THE TOUR HAPPY HOUR AND IN-PERSON SILENT AUCTION
We conclude the Tour on Saturday with "Toast of the Tour" Happy Hour from 4PM to 6:00PM at CMX CinéBistro Siesta Key.  Admission is free with your Tour program and includes 2 free drink tickets!  Enjoy light bites, cash bar, live entertainment, photo-booth, chance drawing and in-person silent auction featuring many amazing items (different from those in our online silent auction).
ONLINE SILENT AUCTION
Throughout the Tour, be sure to check out our amazing online silent auction! We are excited to feature many incredible items including wine tasting, kite surfing lessons, photography sessions, fly fishing lessons, event tickets, a wine paired chefs dinner valued at $3,000, health and beauty packages, date night packages, jewelry, artwork and much more!
The online auction begins Tuesday, February 21st and runs through Saturday, February 25th at 7pm. Happy bidding!
Please note: Items in our online auction can only be bid on online.

https://www.32auctions.com/Tour2023
CONTACT INFO
For more information email us at hometour@jlsarasota.org
Chair: Kari-Jo Koshes
Vice Chair: Caroleen Brej
THANK YOU, SPONSORS!
We would like to give a special thanks to our sponsors! We are so grateful for their support.
PRESENTING SPONSOR – PLATINUM LEVEL
Charlotte's Grace Fine Linens & Luxe Home Accents
GOLD LEVEL – HOME SPONSORS
Modus Builders
DutchCrafters Amish Furniture
Silver Level – Sponsors
Bentley Goodrich Kison, PA

CBIZ
Keith Monda & Veronica Brady
Sarasota Architectural Woodworking
Ulrich, Scarlett, Watts & Dean, PA
Bronze Level – Sponsors
Murray Homes, Inc.
Café L'Europe
FAQS
What are my transportation/parking options for getting to and from the event?
If you are on the VIP Trolley Tour, the meeting area will be the Cine Bistro parking lot.
If you have general admission tickets, parking will depend on the area the home is located. Only park in legally marked areas. Please watch for parking signs. When parking on the street, DO NOT block driveways. Please be aware of pedestrians. Volunteers will be on hand to assist with parking. DO NOT block the designated Trolley parking space. Carpooling is encouraged!
**There is NO PARKING on Bahia Vista; you must park on nearby side streets. Also, NO PARKING on north side of Morris Street; parking is only allowed on the south side of Morris Street.**
How can I contact the organizer with any questions?
Please email us at hometour@jlsarasota.org.
Do I have to bring my printed ticket to the event?
In order to keep the lines flowing, we prefer that you bring a printed copy or show it on your phone. However, if you are unable to print or pull it up on your phone, we can look it up.
What does the Junior League of Sarasota do?
The Junior League of Sarasota is a non-profit organization of trained, hands-on volunteers that has been working to address some of the most difficult issues Sarasota faces for more than 60 years. You may be familiar with some of our legacy projects, many of which are now separate organizations. We are responsible for the creation of organizations such as Children First, the Child Protection Center and Teen Court; built the first handicapped accessible playground; purchased and stocked household goods for new homes at Harvest House; etc. These are just a few of the charitable works that the Junior League has been a key part of. This year we have a focus on Aging Out of Foster Care.
When we recognize a crisis, our 250+ members turn hard-work and resources into solutions. Every year, hundreds of young adults age out of the foster system without parental guidance to help them establish themselves and their futures. The Junior League of Sarasota is joining the fight to support and assist the youth of the foster care system in Sarasota County by creating an impactful program that will help them obtain the life skills and education necessary to become self-sufficient, live independently, and maintain employment. Attending the Tour of Homes means that you are not only going to have a great time and see some beautiful homes, but you are helping the Junior League of Sarasota help those in the community who need it the most.
The Junior League of Sarasota, Inc. (JLS) is a non-profit organization under Federal Tax Code 501(C)(3). Contributions made in support of JLS are tax deductible less goods and services received.
The Federal Tax ID number is 59-6159037. JLS is registered with the State of Florida Department of Agriculture and Consumer Affairs (registration number C5157) and receives 100 percent of all contributions. JLS does not contract with professional solicitors. A copy of the official registration and financial information may be obtained from the Florida Division of Consumer Services by calling toll free (800) 435-7352 within the State. Registration does not imply endorsement, approval or recommendation by the State.